March 31, 2004 . . . e l e c t i o n s . . r u l e . . .

Well, thanks to the Indonesian government, I now have Monday off of work!

The presidential elections are beginning Monday, so I'm going to get outta here for the three day weekend. Actually I'm going to return to the place that I was at last weekend. Yeah, it was that good. Four hour drive or not, I'm determined to find the beach again - just as my chest is finished peeling from the nasty burn I got last weekend - stupid bule.

Actually the elections could get crazy here, we'll see. There have only been minor demonstrations lately, but I've been caught many times behind the throngs of motorcycles out campaigning throughout the country. I was stuck for 40 minutes on the south coast of Java behind a campaign - hundreds (maybe thousands) of Megawati supporters with nothing better to do than block the roads on a Saturday afternoon. I won't get into my view of the elections here at this point cause my country can't get their heads out of their asses long enough to count the votes correctly either (Florida and Bush).

Excuse my randomness -

I've noticed that my English is getting worse and worse. I feel like I've lost half of my vocabulary from speaking Indonenglish to everyone. Even when I speak to my friends, I end sentences with "ya?" - an Indonesian thing to do. "That movie was pretty good, ya?". Even in my writing on here, I feel like my skills have diminished to the point of a high school kid.

On another note, my maid's cooking sucks. She tried to make some meatloaf thing the other day, and I swear I could hear a distant "moo" from the cow - it was that undercooked. I've asked her to just stick to what she's good at - Indonesian food, but even that has gotten progressively worse.

Friends back home say, "Damn you have a maid! That would be so cool!". Yeah maybe in some respects, but I'll tell you what... my white clothes have all turned pink, books that I'm reading simply disappear at times, my fish died cause she dumped in a months worth of food in one day, she can't seem to remember that I'm not home yet and will set the alarm to give me a minor heart attack upon entering my own house, she waits until something is finished before asking to go shopping - as if it's illegal to actually buy bread and eggs before they run out, I can't go downstairs naked at 2 am for a glass of water, and I've had to work out harder and harder to stay in shape from the amount of oil, butter, and rice that goes into her cooking. Last night I almost couldn't find the green beans swimming in a puddle of melted butter - great for the arteries.

When I was in University, a typical diet was the following:

Breakfast - protein shake and a banana

Lunch - tuna straight out of the can, maybe a "subway" sandwich

Dinner - grilled chicken and salad

That's it - boring, bland, and healthy - but it was easy to stay in shape. Now my meals are like the polar opposite of the Atkins diet - rice, rice, and more rice.

Although the funny thing is that I've grown to love sambal - the hot chili sauce poured on almost everything here. When I try to eat "bule" food like steak and potatoes, it all tastes to bland now that I drown it in the sauce - maybe I've permanently damaged my taste buds, who knows.

------------------

This photo is of the clothes dude. You can get yourself a snazzy pair of jeans for about dollar. He walks up and down the street all day pleading for someone to buy his "Fuck Terrorist" shirts.

Please excuse the powerline that traverses my photo - I'm not very careful at times.





posted by Brandon | 7:59 PM
---
|

March 30, 2004 . . j u s t . . a n o t h e r . . d a y . .





These guys were happily workin on a mammoth sized house in my neighborhood. I'm pretty sure the one in the middle is Tupac - and you guys thought he was dead! He's just hiding out waiting to release a new album when the time is right.

For a country with an economic crisis, there's a surprising amount of construction going on everywhere. posted by Brandon | 7:49 PM
---
|

March 29, 2004 .
. .
. . . n e g l e c t . . .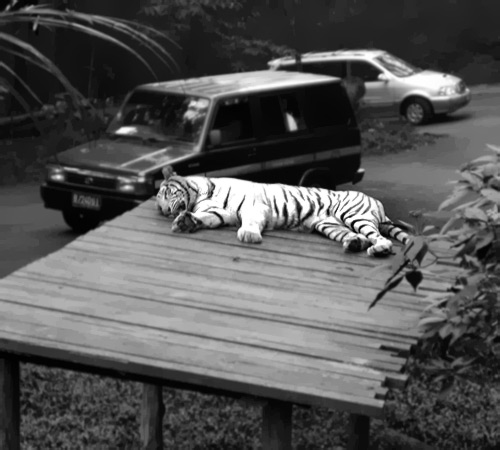 This was my entry for this week's Photo Friday contest - this week's subject was "neglect" and I thought this was fitting. Taken in an Indonesian Zoo / Safari. posted by Brandon | 4:34 PM
---
|

March 28, 2004 .
. .
. . . s a v i n g . . m y . . s a n i t y . . .

Finally I've found exactly what I needed.

I spent the past 5 days in a place that sucked the stress out of my withered mind. Pelabuhan Ratu on the south coast of Java has completely refreshed me (and sunburned the hell outta me). I can't believe how stressed and uptight I've been for the past couple of months - this offered me the chance to view Indonesia as a wonderful place - and reminds me that Jakarta should not represent this place or it's people.

The drive took about 4 hours from Jakarta, venturing from a modern expressway, to pot-holed villages rampant with litter and insane drivers who stare suicide in the face at every turn. This all changed with one turn off - a shortcut - that wound through breathtaking hills weaving in and out of cocoa plantations, terraced rice fields, tea plantations, and rubber plantations; all with more curves than Beyonce. Driving my car, I rarely left first and second gear for two hours climbing and descending with fear but loving every minute of it.

I had my own bungalow on the beach - no T.V., no air conditioning, and no worries. I loved every minute of it. I had a houseboy who cleaned every day as well as shopping the fish market for king prawn, red snapper, and rock lobster every morning to be grilled on the hearth every evening. Simply decadent.

The dawn brought a fresh breeze that revived me from the dreamy sleep that can only be had with the lull of a crashing ocean in the distance. Sipping coffee in the cabana offered a chance to awaken with the day's most vital plan being to hike the length of the beach or swim in the rolling sea. The local people were colorful, full of curiousity, and were never short of character. Children frolicked on the beach carefree without the need for clothes or modesty, wearing only sandals and a smile.

The beach had a violent tide, ripe for surfing, but strenuous for swimming. I ventured out, but was quickly reminded of the power of water over determination. My thighs are bruised and battered but it was well worth the struggle.

Lazy afternoons were spent reading and baking (in the sun/ not in another sense), and at other times exploring the inlets, fishing villages, and talking to the locals. I found out that some oceanfront property is available a half mile from where I stayed. I'm seriously considering purchasing it if I can work out the details and can bargain the price down. I am not even sure what I'd do with it, but damn it'd be nice to be able to have a permanent vacation spot on this beautiful coast.

I would even go as far to say that this rivals Bali in many ways minus the immense tourist population that fills that island.

I took more photos than I know what to do with - and it's tough to narrow it down to only a few representative images. I'll return to this beach in two weeks for a 4 day weekend - plenty of time to remind myself of why I still love Indonesia.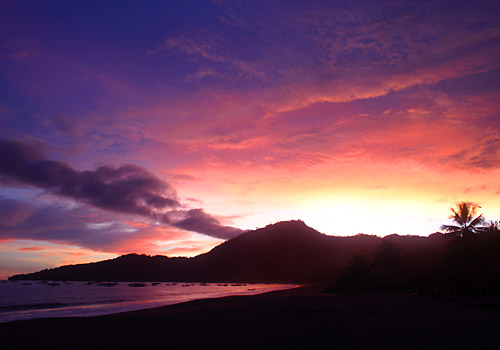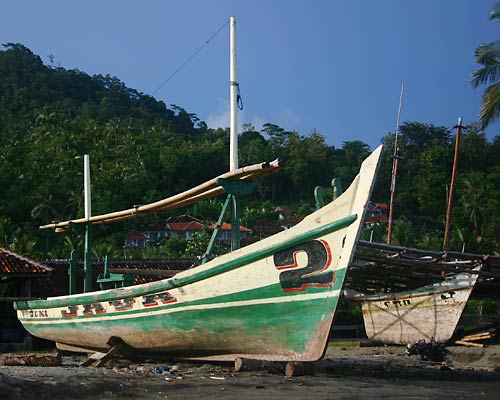 posted by Brandon | 10:10 PM
---
|

March 24, 2004 .
. .
. . . s a i l . . a w a y . . .






I have sailed away - be back Monday! posted by Brandon | 5:56 AM
---
|

March 22, 2004 .
. .
. . . j u s t . . o n e . . m o r e . . c h a n c e . . .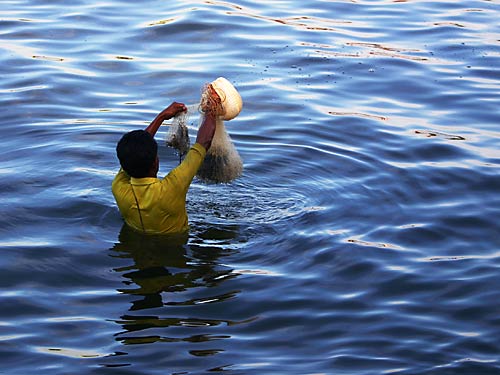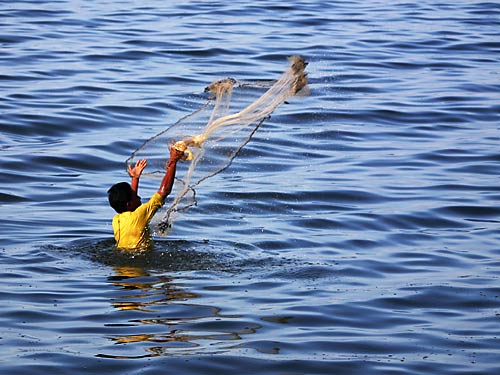 posted by Brandon | 3:24 AM
---
|

March 18, 2004 p a r a d i s e . . f o r . . a . . m o m e n t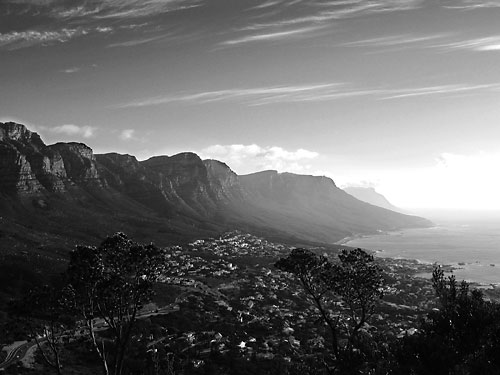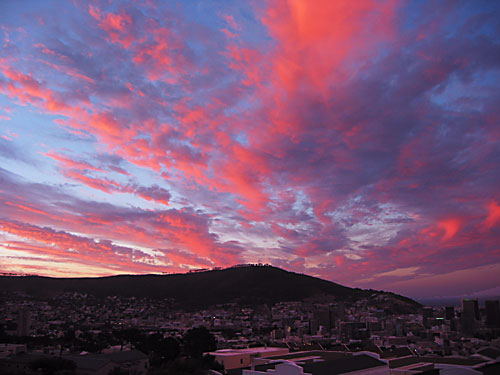 The black and white photo is of the "Twelve Apostles" on the Atlantic side of Cape Town looking east. The bottom sunset photo is from my mother's balcony overlooking the harbor of Cape Town's downtown. Unreal sunsets there. Makes me miss the perspectives of the place.

Well, it's official - I'm on vacation for the next 10 days! I was originally planning on going to Thailand, but plans have changed, so I'll be hangin out on the island of Java. Hopefully I can tour around to some places I have yet to see - including the south coast of Java. It's supposed to be beautiful with great surfing. I now will have some time to take some better photos (I hope) keep up with some writing (I haven't written much in two weeks), and just relax. I've been hitting the gym pretty hard again finally - I've been off schedule for 2 months, but it's always a good thing to stay in shape.

If anyone feels up to it, I'd appreciate you taking a moment to consider voting for me at photo friday! You go to the top of the screen where it says, "vote for clean" and then if you feel I deserve a nod - I'm #219.


posted by Brandon | 9:03 PM
---
| Please tell me - is the "header" sunset redesign better or worse (the photo at the top of the page)?

I took that photo last year on Kuta beach, Bali. posted by Brandon | 12:51 AM
---
|

March 17, 2004 .
. .
. . . b r o n z e . . t e m p t a t i o n . . .







posted by Brandon | 8:34 PM
---
|

March 16, 2004 .
. .
. . . r o o m . . w i t h . . a . . v i e w . . .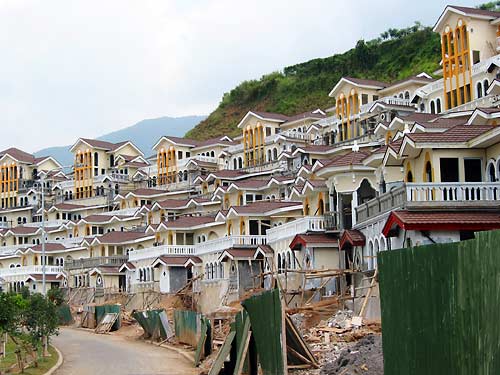 This is an area about an hour from me - technically it's a "vacation getaway" and a tourist destination. Let's take a look at the attractions:

* Crystal clear water - great for swimming with the kids!
* Spacious backyards - great for barbeques!
* Swan boat rides for the romantic couples (venice?)!
* You really get to know your neighbor!
* Eclectic styling at its best (What is that? Greek? Roman Classical?)!

I just thought it was funny that the bridge is adorned with a copy of Michaelangelo's work depicting the Christian God - in a 90% Muslim country. You gotta love this place.

As Forest Gump said best, "That's all I have to say about that."

posted by Brandon | 11:43 PM
---
| I decided to stretch my legs a bit and expand the posting space by 25%. I find that just that little bit will hopefully allow photos to display with a bit more clarity. I hope the added space will display fine on everyone's screen.

I've also added a "photoblog" section - displaying some of the blogs which center strictly around photography. I chose most of these links due to their creativity, clean design, and fresh perspectives as viewed through the lens. Check them out - there are some great artists among them. I hope to continue to update the list with new entries.

I appreciate all the wonderful feedback that I've received both from comments as well as email. Don't hesitate to write me at bhoover@njis.or.id anytime.
posted by Brandon | 10:27 PM
---
|

March 15, 2004




posted by Brandon | 11:59 PM
---
| .
. .
. . . p h o t o . . f r i d a y . . .

Well I finally decided to try my skills at the Photo Friday online contest. Each week they choose a theme with a short description - they leave it to you to interpret the meaning into photography as you see fit. This week's theme is "clean". I have no idea what people expect to see - I've come across many photos of water, soap, and flowers.

You can see my entry here (I'm #219): http://www.photofriday.com/linkviewer.php or you can see the original entry that I made here: http://www.thejavajive.com/photos/theopendoor.html

I took this photo in the mountains of Ubud, on the island of Bali. I came across this rugged old doorway with a rustic walkway leading to the beautifully serene statue in the wall. It was as if the entire area had been neglected except for this perfect little alcove.
posted by Brandon | 9:55 PM
---
|

March 14, 2004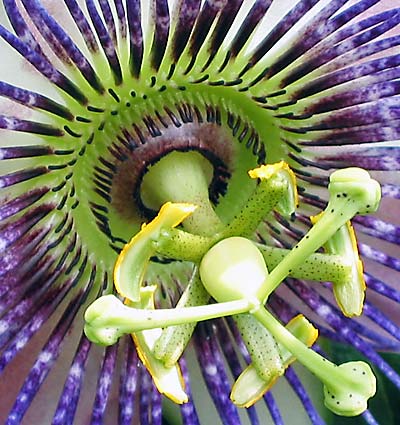 posted by Brandon | 7:55 PM
---
|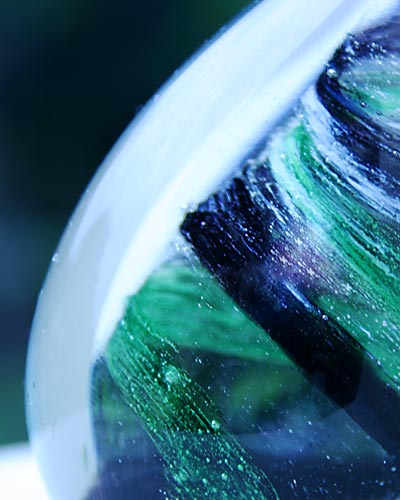 posted by Brandon | 2:19 AM
---
|

March 12, 2004 .
. .
. . . c e l e b u l e . . .

I forgot to mention that I was interviewed for Indonesian national television the other day.

Occasionally when I'm flippin through TV here - between the spanish lipsync'd Indonesian soap operas and the Javanese country music hoe downs, I'll come across some white guy (bule) on Indonesian TV for one reason or another. Usually it's some French surfer dude who stayed too long in Bali and ended up marrying the local celebrity, now showing his mug for all 230 million people to see. My friends and I are always rippin on these guys cause the TV station will patch in the Bahasa Indonesian language over whatever the guy was saying - most likely interepreting his words however they see fit. It comes out looking like a bad Bruce Lee movie dubbed over with 5 second delays.

That's me now.

Yep - It'll be aired on Sunday at noon. I can't wait to be ripped on by all the other foreigners living here, sittin around laughing at the stupid white guy who probably overstayed his welcome in this place. C'est la vie.

- Brandon Lee




posted by Brandon | 12:46 AM
---
|

March 11, 2004










posted by Brandon | 4:30 AM
---
|

March 10, 2004 .
. .
. . . b r e a d . . o n . . a . . b i k e . . .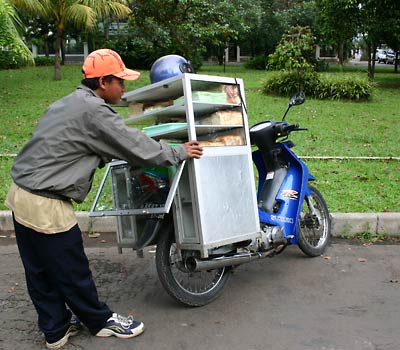 This is the breadman. He cruises around yelling, "Roti, Roti!" muliple times a day past my house. Some of it's not bad. Someday I should do a series of photos displaying the immense variety of objects that show up on motorcycles - familes of five, panes of glass, 50 live chickens, color TVs, bamboo stalks 4 meters long, small trees, sowing machines. No joke.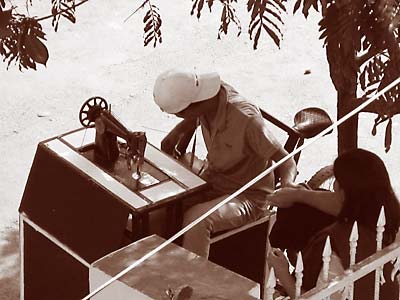 posted by Brandon | 6:38 PM
---
|

March 09, 2004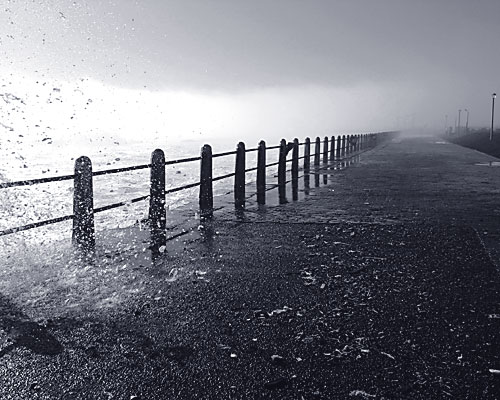 posted by Brandon | 9:02 PM
---
| .
. .
. . . y o u n g e r . . d a y s . . .

I dug up this old photo of ... yep, you guessed it - me! Damn I look like an extra straight off "That 70's Show" - thanks for the snazzy duds mom. Umm - at closer inspection of that picture - is that a candy bar in my pocket or was I a little too excited about the ant-eater toy?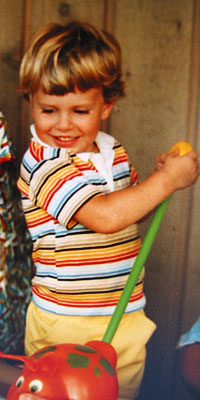 posted by Brandon | 6:03 AM
---
| .
. .
. . . p r a i s e . . t h e . . m o r n i n g . . .

I have a beautiful park right in front of my house - and lemme tell ya, that's extremely rare in a city the size of Jakarta.

Every morning, an older Chinese man practices some form of meditation in the park. I find it relaxing just watching how he receives strength and renewal from these sessions. This serves as a reminder to me that no matter how "advanced" Western medicine may be, we could learn a great deal from Chinese medicine and more natural ways of healing.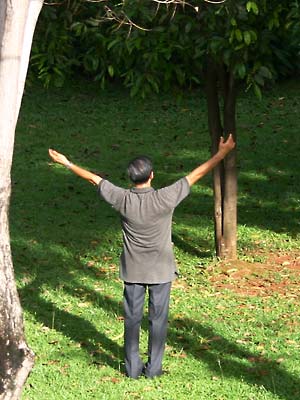 posted by Brandon | 1:08 AM
---
|

March 07, 2004 .
. .
. . . a r t i f a c t s . . f r o m . . t h e . . l i v i n g . . r o o m . . .

One of the awesome advantages of living here are the beautiful, intricately sculpted woodcarvings and furniture readily available. I was just playing around with the new camera, but I thought I'd share some of the sculptures I've picked up in Indonesia. Each piece has a significant history and a story to go with it. I just hope I can get it all home someday!



posted by Brandon | 2:32 AM
---
|

March 05, 2004 .
. .
. . . m a s u k . . a n g i n . . .

Ok, can someone please explain what this means?

I know what it translates to - "masuk angin" = "enter wind". Ok, I get that part, but if anyone is not feeling well, and you ask them what's wrong, they reply with, "masuk angin".

I've been here going on two years, and I have yet to find anyone who can explain to me what the hell that means. Wind is entering your body? People who ride motorcycles often will put something protective over their chest when riding (often a piece of cardboard), to keep the wind out.

I know, I know, it's another stupid "bule" question - but I would like to put this one to rest.


posted by Brandon | 12:03 AM
---
|

March 04, 2004 .
. .
. . . e c s t a t i c . . .

That's right... I'm absolutely thrilled with my new camera - a Canon Digital Rebel, I held it, kissed it, caressed it... j/k

Well I'm pretty pumped at any rate.

Here's a quick example of my very first picture from the new toy... not great, but hey, it was my first pic! Many more to come!



posted by Brandon | 9:43 PM
---
|

March 03, 2004 Ok, ok, lemme clear this up. This picture is from Africa - not Java. Sorry about the misunderstanding.

I saw this woman walking alongside a mountain road, and just couldn't resist capturing the strength and beauty of the scene.


posted by Brandon | 2:21 AM
---
|

March 01, 2004 .
. .
. . . o b s e s s i o n . . .

Ok, well it's not what you think.

But this is a definite weakness of mine. I find something that I want and I completely devote myself to learning about it, researching about it, comparing it with other similar things. I've applied this formula to everything from mountain bikes, rollerblades, cars, stereos, laptops, and video cameras to things like taking trips to the best spots, and finding the best of everything. The problem is that I educate myself to the point of becoming too picky - there's truth to happiness in ignorance.

I tend to devote as much energy to girls when they catch my interest - becoming too "picky" at times. (I'm not shallow though)

Anyway - my newest additiction is to buying a digital SLR camera. Every photo on this site was taken by me with a Canon S40 4.0 megapixel digital camera. It has served me well, but I feel as though it's holding me back a bit. In the states I had a beautiful film SLR that took great shots, but I was really wasting a ton of shots - each one costing cash. I'll still hang on to the S40 - it's great for those moments when you don't wanna feel like a dork lugging around a big-ass lens.

I've found a decent camera - a Canon EOS 300d (otherwise knows as the Digital Rebel). I think I'll also get a 70 - 300 mm zoom lens. With the multipier built into the camera, it will actually become a 480mm equivalent zoom! For those of you who have no idea what I'm talking about, it means I'll be able to see the crabs on a hooker from 100 meters away!

Sorry for that visual.

Yeah, the camera isn't cheap, but the way I rationalize this to myself is to say that once I leave Indonesia - my photos will be the only link to my memories - and with a better camera comes more creative photography and a stronger desire to take new shots - I need a kick in the ass anyway, I've been slackin on taking new photos lately.

posted by Brandon | 8:05 PM
---
| This is near the Cape of Good Hope, in South Africa.

It was as though the light couldn't decide between dawn and dusk.


posted by Brandon | 4:26 AM
---
|