April 29, 2004



Shitty day. Why?

My brother graduates from University in two days and I can't be there. This is the crappy part of having a "global" family. My dad is the only one who can make it. My sister is in Atlanta, my mother in Cape Town, me on some island on the equator. CONGRATULATIONS ANYWAY RYAN! He'll be famous someday - mark my words!

I own stock in Nokia. The price is down and hasn't recovered as quickly as I had thought. This is the first time that I've made a potentially bad call. I've had some of my stocks rise 65% - not so this time. I still have faith.

I found out that all flights are booked to the States on the dates I'd like to go. The only thing open is first class - which means that I booked it, but I have to pay much more. I'm not one of those people that really care about what class I'm in - it's only one day out of my life, I can sit in a cramped seat next to some blabbing stranger who drools in his sleep. I'm a trooper.

I just found out that I apparently had a stupid little $500 loan in University (don't remember that one), and they've been trying to contact me for a year - now it defaulted. What does that mean? That I just f@$@'d up my credit over a lousy five hundred bucks! Of course when I explained that I'm sorry but I've been living in Indonesia for two years, they thought I was full of shit. This is who I was dealing with -

"Sir, I don't show record of you moving to Indonesia."
"Well that's probably why I DIDN'T KNOW ABOUT THE LOAN (insert "jackass" here)!"
"Well sir, we would need to set up a payment plan to Indonesia"
"A payment plan? It's only $500 - can't I just pay right now?"
"I'm not authorized to set that up sir." "but I can set up a payment plan for you to Indonesia."
"Do you listen to a word that I'm saying?"
"I'm not understanding your question sir. Would you like to speak with another representative?"
"Ok, look how can I take care of this as quickly as possible?"
"Well sir, I'm sure we can mail this to Indonesia - that's in South America correct?"
"How about if I just take care of it when I return this summer FROM ASIA!"
"Is there anything else I can help you with sir?"
"Sphinkter says what?"
"I'm sorry sir, I didn't understand your question."


posted by Brandon | 7:20 PM
---
|

April 28, 2004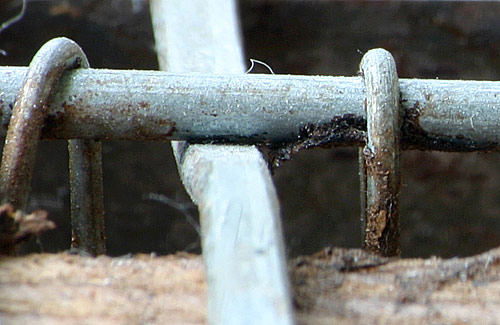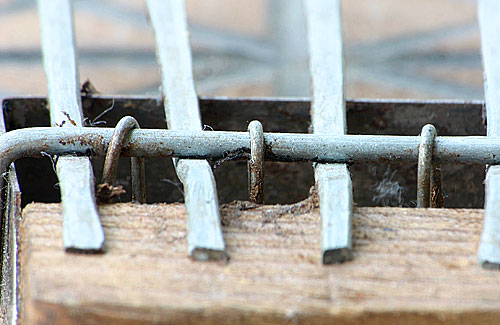 This is a very small, handmade traditional musical instrument from Africa. If anyone can remember the name of it, I'd be grateful. It's handheld and is strummed with your thumbs. Different notes can be heard through the varied length of the tines. I've brought back a few instruments similar to this, all with amazing simplicity.

I suppose I get on a close-up kick at times - I hope they're not boring.

When the world around you gets too big, it's best to view the world in details. (wow, my first quote) posted by Brandon | 7:00 PM
---
|

April 27, 2004 . . . t h e . . a t h l e t e . . .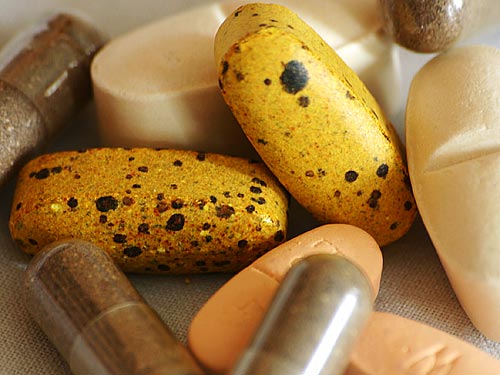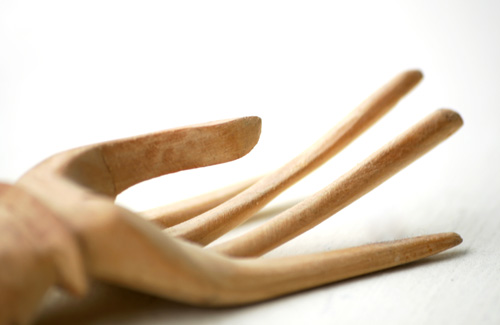 posted by Brandon | 7:55 PM
---
|

April 26, 2004
posted by Brandon | 8:31 PM
---
| . . . g e n i e . . w i t h . . b a l l s . . .

Ok, I'm sorry to gross you out, but I just couldn't resist sharing with the world the "Headline News" from today's Jakarta Post. I can't believe they print this shit. Here's the link if you don't believe me.
----------------------------------------------------------------

Boy, 6, circumcised by 'genie'

TANGERANG, Indonesia: It was a painful experience for Satrio Wibowo, 6, when he found his penis had swollen all of a sudden while he sat in the front porch of his parents' house in Rancagong village, Legok district, on Friday afternoon.

"We tried to get help from shamans but strangely none of them were around ... we suspected it was the work of a genie," the boy's mother Titin, a factory worker, said on Monday.

Siswo, the boy's father, who is a street vendor, claimed they could not afford to take their only son to the hospital.

But when the confused mother checked on Saturday morning, the painful swelling, as well as the foreskin of the boy's penis were gone as if it had been circumcised, but without a trace of a cut or stitches.

Circumcision is essential for Muslim boys to mark the arrival of puberty. -- JP

posted by Brandon | 7:48 PM
---
|

April 25, 2004 . . . m a r c h i n g . . t o w a r d s . . t h e . . f u t u r e . . .

I woke up today at 5am - not a natural time to be awake for any human being, especially me.

Have you ever woken up and it's as though your mind decides to go off on enough tangents to mimic caffeine? My tangents dealt with my future and the course it may take. It's strange because I'm not generally worried about what will happen after next year - I'm a bit spontaneous at times to say the least. I suppose this stems from the fact that in 8 months I will be forced to make a fairly weighty decision - what to do with my life.

I have signed a new contract for one more year in Indonesia - which expires July of 2005. In December of this year I must choose whether to stay beyond that here in Indonesia or move on to another place. At this point I feel I will choose to leave Indonesia - 3 years will be enough. The truth is, I also make rash decisions at the last minute; this means my current words could mean nothing at that time.

There are so many things I would love to do, and so many places I wish to see. In all reality I will have to choose a path of some sort - I feel like I'm 17 years old with my high school guidance counselor staring me down with the words, "What do you want to do with your life?".

I have a pretty decent (and marketable) Engineering / Design degree that took me 7 long years to obtain. I still love design of any sort, and have actually spent lots of effort in Indonesia improving myself in areas that were not focused upon in university such as graphic design, web design, etc. I just don't know if I can join the life of working all day and having 2 weeks (or less) vacation time per year.

I thought that eventually my stay in Indonesia would saturate and cure my curiousity to travel overseas, and that in a year or so I would miss the States. In all honesty, if nothing else, it has added fuel to the fire of my desire to seek out new experiences (sounds like a poorly written version of a line Jim Morrison would compose).

In the movie "Hi Fidelity", John Cusack had to compose a list of his top five dream jobs. I will take that one step further and produce ten. Here are mine:

1. Formula One driver.
2. Head designer for Ferrari.
3. Test driver and author - reviewing exotic cars.
4. World class architect.
5. Traveling photojournalist.
6. Hugh Hefner's replacement (c'mon you know I had to throw that in here).
7. Owner of Virgin Atlantic / Virgin Records.
8. Astronaut.
9. That Discovery Channel guy who visits every country and tells about it.
10. Beach bum - living off large inheritance.

Impossible? Unrealistic? Ridiculous? Probably. However, his list wasn't realistic and mine doesn't have to be either. I would love to hear anyone else's list!

I'm not sure where I'll be in 10 years, 10 months, or 10 weeks. Part of me likes that, but the 5am part of me needs a bit more of a plan. This plan doesn't have to mirror one of my 10 choices, nor does it require me to live in the States. I just hope that in the following months I can figure out a bit more direction for myself without sacrificing happiness (or sleep). The funny thing is that I was only supposed to be in Indonesia for a year - I guess the journey is what matters most.

"Reality is wrong. Dreams are for real."
-Tupac Shakur

"It is good to have an end to journey toward, but it is the journey that matters in the end."
-Ursula K. LeGuin posted by Brandon | 8:03 PM
---
| . . a . . s m a l l . . w o r l d . . a f t e r . . a l l . .






posted by Brandon | 6:54 PM
---
|

April 22, 2004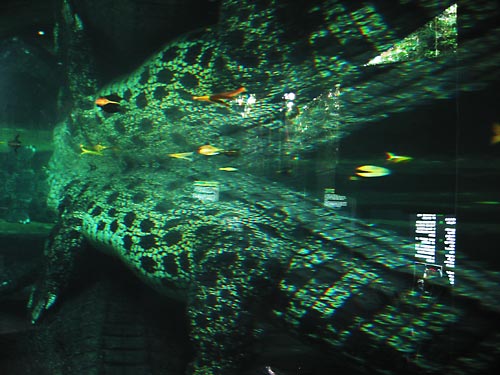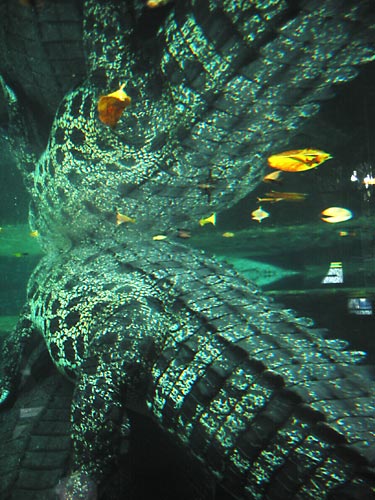 Taken in Singapore. posted by Brandon | 7:33 PM
---
|

April 21, 2004 . . . w h e r e . . i n . . t h e . . w o r l d . . a r e . . y o u . . b r a n d o n ? . . .

Yes I get this question often. As well as: Where is Indonesia? Do they have headhunters there? (wtf?) Do they have movie theaters? Do you live in a house? What do you eat? Oh yeah, isn't that near India?

By the way, most of those questions have come from Americans - I guess we weren't exposed to much Asian geography as children. The scary thing is many of these people are my friends from home who also have reasonably high paying jobs presently - needlesstosay they're not teaching Asian studies.

So, I've come up with a few maps that I hope clearly show where Asia, Indonesia, Java, and Bali are located. I know they aren't the best, but they should be sufficient for your viewing pleasure.

I'm on the island of Java - (fun fact - it's the most densely populated island in the world). Bali is my neighbor (voted best island in the world many times), as are the countries of Malaysia and Singapore. Australia is also within skipping distance.




As you can see, I suppose I have three homes now, Michigan, Indonesia, and Cape Town - although I'm not sure I'll ever end up in any of them long term after I leave Indonesia.




The last map shows a few points in orange where I've displayed photos on this site. Recently my trips down to Pelabuhan Ratu were put on in March and April. The dot out in the middle of the ocean isn't a mistake - that's Krakatoa - the most distructive volcanoe in recent history. There's a post about that somewhere in here - awesome trip.

I hope now I can sleep at night knowing my friends and visitors now have a decent idea of where I'm living, avoiding headhunters, and starving. And no - Indonesia has nothing to do with India except the shitty little bajaj vehicles that are imported at staggering numbers to the dismay of every expat who has to drive on these streets.
posted by Brandon | 9:46 PM
---
| .
. .
. . . r e a d . . m y . . m i n d . . .

I'm looking for something to read - any ideas?

I'm weird when it comes to books - I'm way to picky, and sometimes way too spontaneous about buying something before I know about it. I sometimes spend obscene amounts of time browsing through amazon.com to find a "good" book. The truth is I've bought way too many books while living in Indonesia. I'm such a dumbass, cause obviously I either have to pay to ship them all home (wherever that may be), or I have to sell them (or give them away). At any rate, I have only read about a third of the books that I've purchased here.

I don't know what's up with me lately, but I've been way too "flighty" or easily distracted. I've started 4 different books in the past week...

1984 - George Orwell

Prague - Arthur Phillips

Tai Pan - James Clavell

The Human Stain - Philip Roth

I just finished reading all of the Dan Brown books (The Da Vinci Code, etc). I thought they were great stories, but not very good literature. I suppose I'm searching for something with a bit more beneath the surface.

Actually, I've really enjoyed reading A Short History of Nearly Everything - Bill Bryson This is the first book of his that I've read, but I really like his style. He can keep something as mundane as quarks, atoms, and the earth's crust as lively as watching The Learning Channel after a few drinks.

I have nothing to complain about as far as the bookstores here; they're pretty well stocked - but damn I get spoiled when I go to Singapore. What's the name of that Japanese bookstore on Orchard Street? Kinokornikova or something (maybe that's Anna). But anyway, there are some decent bookstores in Jakarta with fair selections - but it is hard to find something that's not at the top of the list or something that's more than a few years old.

If anyone's read any of these books and has an opinion, please express it either in the comment section or via email - bhoover@njis.or.id posted by Brandon | 1:54 AM
---
|

April 18, 2004 . . . t h e . . s a d n e s s . . .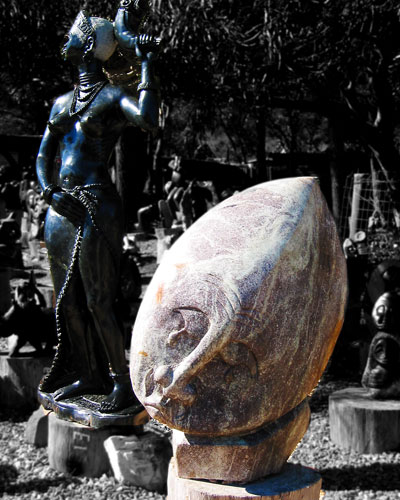 posted by Brandon | 9:56 PM
---
|

April 15, 2004 . . . g a n g s . . o f . . j a k a r t a . . .

This guy was having a great afternoon, casually delivering his order of bakpau fast food to a neighbour.




When all of a sudden, a deviant criminal overtook him on his bike, stealing his food with a sly grin.




And prompting a security guard and his deputy to save the day on their super duper C.H.I.P.S. bike.




Believe it or not. posted by Brandon | 11:10 PM
---
|

April 14, 2004 . . . s t o n e l i n e s s . . .





Both photos were taken in South Africa. On this remote drive to the Cape Point, an amazing sight caught my eye - a huge garden full of these sculptures all hand carved from local materials. Most of them are reasonably priced, and all are for sale. I've purchased many of them, although the airlines look at you funny when they tell you your bags are overweight and you pull out a rock.

I find that there are some very similar connections to South Africa and Indonesia - one being the artwork. The African stonework is replaced with intricate woodcarvings here. Both cultures exhibit amazing skills in turning everyday objects into museum quality pieces of art. I have never seen such amazing craftmanship in Western countries - I like the fact that you can't simply buy these pieces anywhere.

American artists would benefit greatly from visiting both of these countries in search for inspiration. posted by Brandon | 7:43 PM
---
|

April 13, 2004 . . . m o i . . .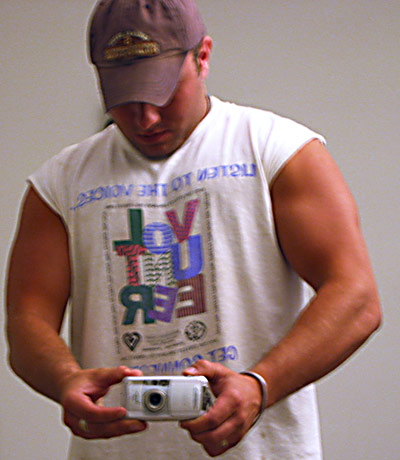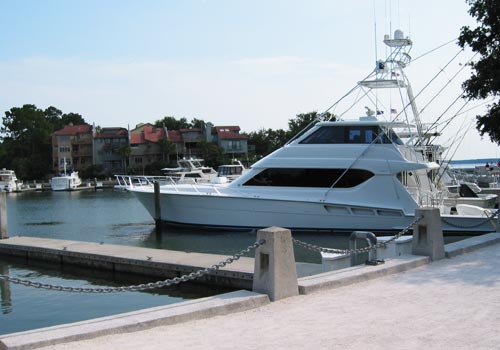 I was goin through some old photos and found a whole folder of pictures that were taken right before leaving for Indonesia. These are from my home state of Michigan - you can see why it's called the "Great Lake State" - we're surrounded by water. The second photo was taken from 300 foot sand dunes - those are people climbing up the dune.

That's a very crappy photo of me - taken without much skill as can be seen in the amount of blurring - also taken two years ago - two weeks before coming here. What is that my superman pose? I don't know what I was thinking.

It's so crazy for me to look back at these - I've never had a period of two years change me in so many ways - I'm sure if I return this summer for a visit, I'll have major reverse culture shock... a foreigner in my own country? posted by Brandon | 10:35 PM
---
|

April 12, 2004 . . . d r e a m s c a p e . . .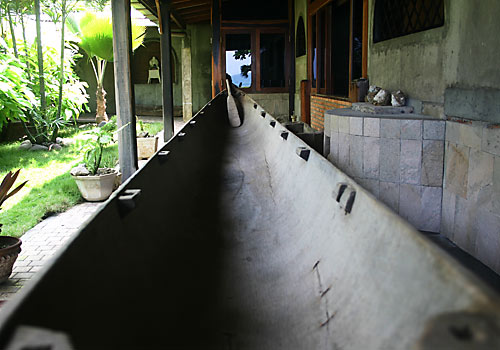 Ouch.

That's the first word that spilled out of my mouth as the saltwater entered. Surfing is dangerous - and even more so if you land on your head. My neck snapped back in a very deadly angle forcing thoughts of wheelchairs to rocket through my cortex before I could even break the fall with my hands. As I think back, the wave wasn't even that big - perhaps 6 feet, but it sure felt like a sumo wrestler had plowed his ass cheeks into me.

I managed to capture a few shots, but photography wasn't my focus this weekend. I'm now back in Jakarta, and ready to get back in the groove.

Have you ever seen bulls and surfers on the same beach? posted by Brandon | 6:56 PM
---
|

April 07, 2004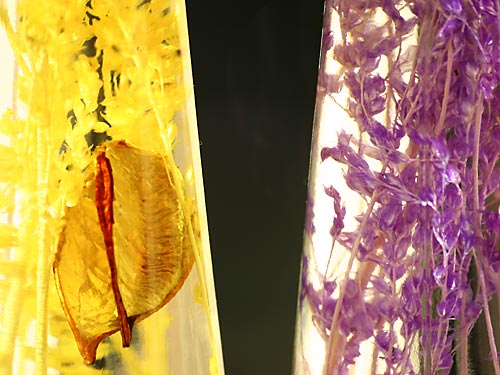 I'm off yet again - yep, to the coast for another 4 day weekend!

This time I'll be staying with some different friends at a home that was built and owned by a "world class surfer" or so I've heard. The villa is fantastically designed with some of the most unique architecture I've seen on this crazy island. Instead of being traditionally built with local materials and bamboo - it utilizes very heavy concrete, dark woods, and an almost gothic style of construction. There's a jacuzzi overlooking the ocean, a large cabana from which to completely lose yourself in a book, and tumultuous waves just aching to be surfed.

The only crappy thing is that I have to traipse through four more hours of jungle driving to get there - usually not a problem, but I put a whole the size of an orange in my muffler. My car is so loud that I routinely set off car alarms when I drive past to the horror of my neighbors. A sick and twisted part of me actually enjoys it because the shitty little motorcycles jump out of my way whenever I rev the engine.

---------------

I've restarted my sushi craze - I now consume sushi around 4 days a week. I don't know why, but I love the stuff - plus it's extremely healthy and easily accessible here. Now whenever I'm munching on salmon, I dip it in wasabi and images flash into my cortex of the "Jackass" scene where the guy snorts wasabi into his nose. Gives me chills just thinkin about it!

Maybe I'll actually stay home one of these weekends, but for now - I'm outta this shittycity! Be back on Tuesday! posted by Brandon | 7:46 PM
---
|

April 06, 2004 . . . s h a d y . . c h a r a c t e r s . . .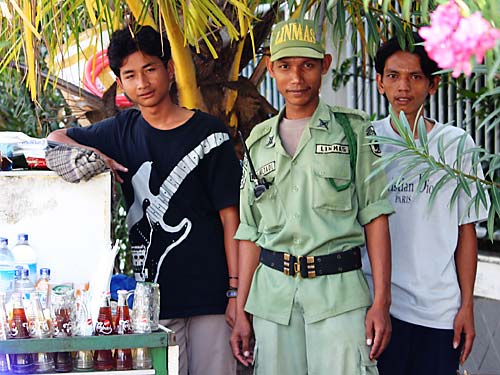 These are some more examples of the characters that patrol my neighborhood. The top one is the Indonesian Tim Allen - fix it man. He rides around proclaiming his skills to anyone that's listening. I'm not really sure to what extent he can repair things with only that small arsenal of tools.

The second photo - I'm sorry but I don't feel the least bit safe with a security guard that looks as if a stiff breeze could knock him over. That guy looks like a 16 year old who threw on his father's clothes just for fun. Is that a walkie talkie I see? The guy on the right just jumped in the photo at the last second - where the hell did you come from?


posted by Brandon | 9:43 PM
---
|

April 05, 2004 . . . o r a n g e . . s p l e n d o r . . .






Well, I just returned from another three day weekend on the south coast of Java - Pelabuhan Ratu. I found it amazing, once again - but believe it or not, I didn't take a single photo with my new camera.

Some good friends came down and we enjoyed some cold drinks and good conversation - it's a shame that more of my coworkers don't get into this. I find that people often put a price on their experiences, and when they leave here, they'll only have the engravings of their memories to walk them through the history of their lives.

As ridiculous as it sounds, I have a four day weekend starting Friday - and guess where I'm going? Yeah, I know, it's a bit much but this time I found a beautiful private 4 bedroom villa. This new place was designed and built by a guy that has been rumoured to be a "world class surfer" - I wouldn't doubt that he is after meeting him. I counted at least 15 surf boards in the home. This beach is a bit further down the coast from where I've been staying and the waves are bigger. The villa has a loft that opens up to an ocean view, a jacuzzi that looks out over the beach, and gothic stonework that could be straight out of a Nine Inch Nails video. Eclectic, yes. Most likely I'll have some friends join me - should be a good time!

-----------------------

Maid update - she locked me out of the house the other day, and I didn't have my keys with me. She had already gone to bed an hour early, and as luck would have it, I've made my house so secure that I can no longer break into it with a credit card and my McGuyver training. I ended up banging so hard on the door that the security guards came over to see what the commotion was all about. As soon as they saw it was me, they managed to produce a sarcastic grin and drove away muttering jokes of the strange bule who breaks into his own home.

-----------------------

These photos were taken within minutes of my house, on the north coast of Java - at the same place as the fisherman, the sailboat, and some other older images found below. The saturation of this drink cart kept capturing my eye - a man bicycles around selling sweet iced tea while peddling this contraption. The second photo - take a guess.

-----------------------

Has anyone read about this? (link)

"A series of spontaneous fires started in mid-January in the town of Canneto di Caronia in about 20 houses. After a brief respite last month, the almost daily fires have flared up again -- even though electricity to the village was cut off. An endless flow of scientists, engineers, police and even a few self-styled "ghostbusters" have descended on the town searching for clues to the recent spontaneous combustion of everything from fuse boxes to microwave ovens to a car.

From the start, Gabriele Amorth, one of the Catholic Church's exorcists, suspected the devil was at work. "I've seen things like this before," he told Il Messaggero daily. "Demons occupy a house and appear in electrical goods,"

"Nobody can say the experts aren't trying. Canneto looks increasingly like a set for the TV hit "The X-Files."

Crazy world, huh?


posted by Brandon | 8:08 PM
---
|

April 01, 2004 . . . d u s k . . t i l l . . d a w n . . .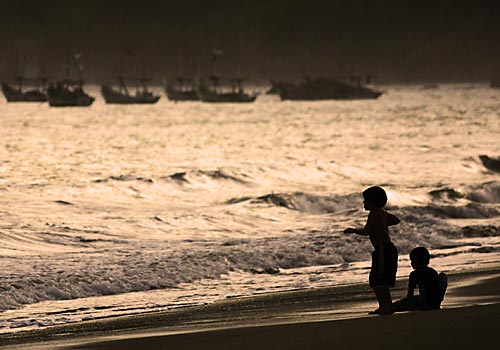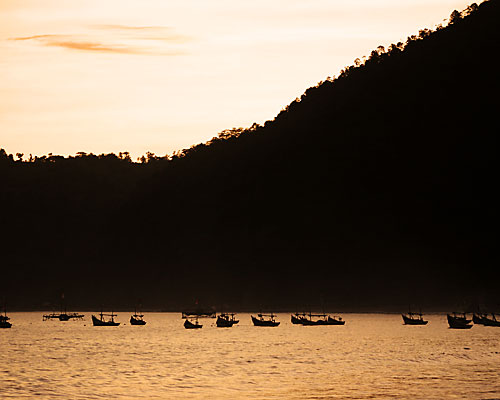 posted by Brandon | 7:07 PM
---
|