May 31, 2004


Do you ever feel like this?

Taken near the Krakatoa volcano between the islands of Java and Sumatra. I posted other pics from here previously, but never this one. It's tough to bring a nice camera on more "adventurous" trips like this, so my shots aren't the best. I used my older Canon S40, but the boat was also moving at the time.

On another track, I have a new obsession with music - finding the best portable hard drive based audio player. (you know, like an ipod) Right now I use an awesome but cumbersome CD based mp3 player from iriver. iriver is a little known company that makes beautiful products (from a design sense) that rival if not exceed the big names like Sony, Apple, etc. Go onto amazon.com if you would like to see proof of their following. It's almost a cult following - not many people buy them, but those who do love their stuff. I find that when I workout, ride my bike, rollerblade, and so on, I tend to leave my music at home cause it's just too damn big and heavy, so this is my solution.

I've narrowed it down to either a 20 gb or 40 gb iriver or ipod. The ipods have notoriously short battery life and even need possible battery replacement after a year and a half or so I've heard. The iriver is not as "pretty" but has some functions that the ipod doesn't.

Does anyone have any experience with an ipod or the iriver? What are your thoughts? posted by Brandon | 6:17 PM
---
|

May 27, 2004


I know, I know, another sunset photo. C'mon though, isn't this kinda nice? Taken from the balcony of my mother's house in Cape Town, S. Africa.

I'm going down into the rugged parts of Jakarta to take some photos this afternoon - hopefully I can capture more of the "real" side of this city. The area I live in isn't very representative of the gritty parts of Jakarta.

I'm struggling to find gifts for my family and friends that will fit in my luggage. The last time I returned from Cape Town, the airline told me I had to pay $800 in excess weight - not cool. (I ended up shipping it for $200). Any ideas of some meaningful gifts that can fit compactly into a suitcase or two? I've already purchased some of the beautiful batik shirts that are available here, and I'd love to pack in some of the intricate wood carvings, but I'm not sure how practical that is.

I finally got confirmation on my tickets - I also get two free nights in Singapore during my layovers. I can't believe how much cheaper tickets are now compared to two years ago. I flew here on a one way in 2002 for $1300. Now I can get a return ticket for $950! Asia is not exactly the hottest vacation spot at the moment with SARS, terrorism, and the gas crunch tightening people's budgets - forcing tickets prices down. If anyone has dreamed of seeing Bali, now is the time! posted by Brandon | 6:11 PM
---
|

May 26, 2004
posted by Brandon | 6:48 PM
---
|

May 25, 2004 t h e . . r i v e r . . o f . . my . . m i n d





I awoke around midnight last night, having fallen asleep while reading "A Clockwork Orange", to images flashing behind my eyes. It was as if I was dreaming with my eyes closed but my mind open. The images resembled still scenes from a silent film firing in rapid succession throughout my cortex. What I was seeing were vastly imaginative compositions in a magnitude of hues and tones - like breaking down a scene into its fundamental parts and then snapping a photo of what was left.

As the minutes passed, I pulled myself out of the state I was in. Without possessing rational thoughts by this time, I nearly grabbed my camera before the scenes disappeared from the approaching mist of wakefulness. I began to realize the lack of sanity in the desire to take photos at such a time and slipped back into dreams of years past.
posted by Brandon | 5:55 PM
---
|

May 24, 2004


The day was overcast and not too photogenic, yet black and white images tend to turn out with some interest - probably because the bad lighting tends to force you to search more carefully for a shot. I still haven't decided if this image is anything decent or not.

I printed off a ton of photos last night; I felt it was time. I tend to take hundreds of photos and leave them all on my computer - rarely having printed any of them. There's just something about a tangible photograph in your hands or on your wall. Often the limitations of computer screens and file sizes can drastically diminish the impact a photo has upon the viewer. Thankfully I have found a wonderful print shop. I can print an 8RSS (20 x 35cm or about 8 inches x 14 inches) for less than two bucks! The paper that I've found to be amazing is their "dove" instead of glossy or matte. It has the resilience of matte, but the saturation of glossy.

Around a year ago I put hundreds of photos onto a CD for my family back home to view. I thought it'd be a great way for them to see my experiences with minimal hassle - I still don't think they've taken a look. For most people I guess it is much better to have an actual print in hand.

In my opinion this is the same scenario as the E-book. As great as the technology to read a book on your computer or PDA could be, people (including myself) often greatly prefer to read a "real" book. They enjoy seeing the well read copies of their favorite stories resting upon their shelves like a good friend. Photographs can have the same effect - the Internet, computers, and technology can be wonderful, but it's still a great feeling to have your own prints on display in your home, waiting to have their story told. posted by Brandon | 5:53 PM
---
|

May 23, 2004 Here is my entry to the photo friday contest this week for the theme, "macro". Comments welcome!

It's a bronze statue from Africa that only measures about an inch tall.

On another note, I've noticed some spam in my guestbook - mostly from France:

"I you remerci for the quality of your site which I find interessant very"

"Much love from Transcription! To be continued"

I've deleted some of them, but it's obnoxious to see someone waste their time and mine. Now if I could just get my hotmail to quit receiving offers for Viagra, I'd be all set! posted by Brandon | 11:49 PM
---
|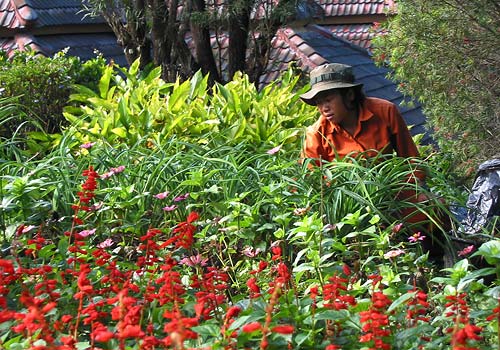 posted by Brandon | 9:24 PM
---
|

May 20, 2004 . . . d a v i d . . b l a i n e . . .




This guy wanted to sell me a bat.

I asked, "What for?"

He said, "For eating".

Of course it is. Stupid me.
posted by Brandon | 6:49 PM
---
|

May 18, 2004 . . . h i l l b i l l i e s . . i n . . j a v a . . .

It's probably very cruel to tell this story. I am not trying to make fun of anyone, but it's too crazy to keep it to myself.

My maid, let's call her Ningslow, has a life story that could very well have been cultivated in the deepest woods of Kentucky. She just turned 18 and has been working for me for a year now. (no child labor laws here apparently). She is about 4 foot 10 and married to a man 10 years her senior who stands at eye level with her. Let me tell you why this guy is a piece of shit.

Ningslow, at 18, already has a 3 year old baby that lives with her mother. Ningslow works and sends most of her salary home to her mother and her baby. This is a very common practice in Indonesia. Last summer her husband, being the nice little guy that he is, told her that their baby was sick and he needed money from her for the baby. She gave many months of her salary to him.

A few months passed and Ningslow discovered that her husband was having an affair - and he had given all of her money to this new woman! If that wasn't traumatic enough for the poor girl, she learned that the new woman was, in fact, her own aunt! Yep, sick people. Hold on it gets worse.

In the burning passion between the 4 foot 10 asshole and Ningslow's elderly aunt, he managed to get her pregnant! He also, coincidently lost his job around the same time so Ningslow has had to support her baby on her own.

Being a "good" Muslim, the runt of a husband told Ningslow that he must take her aunt as his second wife for thier new baby's sake - while he is still married to Ningslow. Are you following all this? I know it gets confusing. So he is now married to both of them, and has children from both.

November of last year rolls around and guess who's pregnant again? Yep, Ningslow. I guess that means she's not mad at him anymore. How friggin crazy is this? Not that it's my business, but c'mon people. Have a bit of common sense.

Now, six months later, Ningslow has to quit her job working for me because she's too big to be able to work. Her husband, the polygamist, is still unemployed and happily married to both women. The aunt just had the baby, and Ningslow's is not far behind. So what will the relation between the aunt's baby and Ninglow be? Cousins?

All I want to know in all of this is . . . HAVE YOU HEARD OF CONDOMS?





I thought I'd post something more calm after hearing that whole story. Beautifully terraced rice fields taken near Bandung, West Java. posted by Brandon | 6:08 PM
---
|

May 16, 2004 Two of my buddies hittin the waves on the south coast of Java last weekend.


posted by Brandon | 8:37 PM
---
| I recently began adding some of my photos to usefilm.com for critiquing. Has anyone ever used that site or have any others that are decently laid out? This one only lets me upload one photo per day so it's a bit of a slow process but the feedback is encouraging.

I'm also starting to notice that some of my older photos really suck. Oh well, maybe that means that I'm learning more and actually progressing. posted by Brandon | 4:50 AM
---
| My apologies for those of you who have written to me asking where I am - I've been totally busy and a bit lazy to write recently. I guess it's finally sinking in that I'm gettin the hell outta here for two months!

Basically I think I'll fly into Michigan (the state that looks like a mitten with all the water around it), spend some time with my dad, my mother will fly in from Cape Town shortly after and after that we'll tour around America a bit. I hope to convince my brother to follow unless he's too busy working at his Ethiopian restaurant (isn't that an oxymoron?). We'll cruise down to Atlanta to see my sister who is in grad/portfolio school for advertising. From there I hope to see Colorado, the Grand Canyon, Boston, Charleston, Chicago, etc (not in that geographical order hopefully).

It's such a good feeling to know that I can finally speak English all the time, drive on the right side of the road, and rid myself of the claustrophobia that is Jakarta. I can breathe fresh air, eat meals without rice, wash my own laundry, cook for myself, spend time with my family and friends, ride my mountain bike, rollerblade, and just chill.

The bad part is that I know I'm going to burn through cash like it's goin outta syle, I'm going to have to convince the State of Michigan to renew my driver's license that expired in August of 2002, wash my own laundry, cook for myself, can't go to my fitness club, crash at different people's places, rent a car, and watch my speed while driving (highway patrol is non-existent in Indonesia).

It will be amazing to experience my own home country from a new perspective. I don't know what I'll think, but I'm sure my perspectives will have changed in two years. I wonder if it will be hard to get back on the plane in August to return to Indonesia. Perhaps my opinions of Indonesia will also take on a new shape with having stepped away for a while.

Whatever happens I know that it will good to be "home" again. Two years is a long time to be gone.

posted by Brandon | 3:39 AM
---
|

May 13, 2004 I received this email the other day - it seems as though my site may serve more of a purpose than I had intended.

"Hello Brandon, I hope you can help me. I am an artist disabled with amyotrophic lateral sclerosis ALS "Lou Gehrig's disease " also called motor neuron disease MND. This progressive, fatal neuromuscular disease has left me paralyzed in a wheelchair unable to care for myself.

To raise awareness of ALS/MND I have started a project attempting to get a piece of my art photographed in every country in the world. I am looking for a way to get a piece my artwork photographed in Java, Indonesia. I can e-mail a JPEG image of the art to you, then you can print it, photograph the printout of my art on location and e-mail the image back to me. I ask that the picture be taken outside with some distinguishable features to tell me where the photograph was taken. I also ask that you tell me the place/ town it is photographed in and any other interesting information you might wish to include.

This is strictly a noncommercial project. Despite my severe disability, I have done a considerable amount of work for the ALS Association and the Muscular Dystrophy Association in the United States, appeared on television several times, featured in national and local publications, testified at government hearings in support of the disabled, etc.

This project seems impossible sitting at home every day in my wheelchair. But it can come true with a little help from the kindness of strangers. I ask you kindly to give it serious consideration. A small amount of your time will make a world of difference to me!

I hope you can help me with this important request or refer me to someone that could. Thanks for your time and I look forward to your response, sincerely, Fred Siwak, Ipswich, Massachusetts, United States of America.

I'm trying so hard to reach every country. Won't you take a bit of time to help me with Indonesia? Thanks!"

I have since agreed to participate, and he has sent me the image. I now need to print it out and find a "representative" setting that displays both Indonesia as well as his artwork - any ideas? posted by Brandon | 5:23 PM
---
|

May 11, 2004
posted by Brandon | 1:22 AM
---
|

May 10, 2004
posted by Brandon | 5:51 AM
---
|

May 07, 2004 .
. .
. . . r a n d o m . . t h o u g h t s . . .

It's crazy to think that I actually live only about 6 kilometers from the ocean (straight line), and yet I'll drive for four hours to go to the opposite side of Java to head to the beach. But yep, once again, I'm heading down with 10 other of my friends to the same spot - Pelabuhan Ratu. Even though this is a normal weekend, I think we'll have a great time.

...............................

The "drama" has intensified even beyond what I thought yesterday. I hope someday I can post on here what I've witnessed and what I've come across in the past 12 hours - mind blowing stuff. I know there's really no point in teasing you with that, but hey, it's my only source of confession.

...............................

Can someone tell me why it is that the government here is absolutely retarded?

I got my STNK renewed - basically my car's registration. Most people only have to pay $100 or less - of course mine is more expensive. So what do I get for $250?

A license plate.

So I go out to mount my shiny new ass-ugly black plate to the back of my car. Hmm. Well, the old one is held on by screws through primitive holes in the plate. Ok, well the new one doesn't have any holes.

Thinking that I got a bum deal, I walk into the office and ask stupidly,

"Do license plates generally come with holes already drilled in them?"

"Well of course not, Mr. Brandon, you have to make the holes yourself."

"Of course I do, why wouldn't I have to. Thanks for answering my question."

As I walk out with a fake smile, all I can think of is how absolutely stupid some little "oversights" like this can be in this place. No, it's not a big deal to go grab a drill and make the holes, but what the f@$( man - for $250 can't they do it for you?
posted by Brandon | 12:15 AM
---
|

May 05, 2004 Why do I attract more drama in my life than an Italian dubbed soap opera?

It's as though I try to mind my own business, staying out of trouble as much as I can, and yet because of the people I associate with - I always seem to get caught in the middle. This past month has brought four separate yet equally disturbing situations to face. Two within this past week alone. One which could erupt dangerously.

I have had some uncomfortable decisions to make - and they fell into my responsibility even if I didn't carry any of the blame.

Does anyone remember a certain post on here that I chose to remove two months ago? Well if you can remember what that was about - let's just say that it has blown up well beyond the scope that I thought was capable. I'd rather not reiterate at this point and time, but if you can think back to a few months ago when I took it off of here, perhaps you will realize what I'm talking about.

Yes, this sounds ridiculously cryptic, but like I said, it's coming to a boiling point and I don't want to be caught in the middle.

posted by Brandon | 7:27 PM
---
|

May 03, 2004 . . . l i o n ' s . . h e a d . . .

Here is my submission to the Photo Friday contest. (click on the words to see it in full size)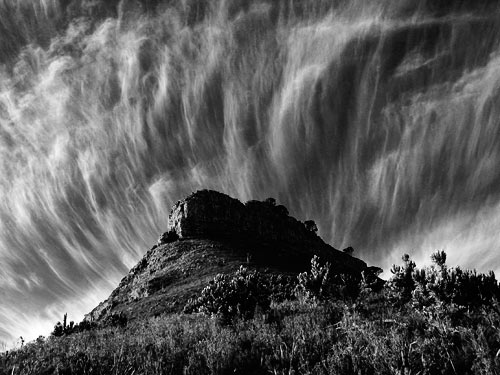 I spent an afternoon hiking up this beautiful mountain overlooking Cape Town. Off to the left was the pristine Atlantic Ocean with the sun sparkling off the whitecaps, and on my right was the city carved into Table Mountain. The name of this is "Lion's Head" - and it offers a spectacular view from above. The theme for the photo contest this week is "natural" - I don't think anything is more natural than the power of nature to overwhelm you with it's immensity. These clouds just seemed to be pouring down from the sky - as natural as a waterfall plummeting to the Atlantic. I only chose to display it in black and white because I felt that the deep blue hue of the sky was distracting from the detail in the clouds. I have not seen a sky such as this before or since this day. I wish I could truly capture it in a photograph.
posted by Brandon | 6:48 PM
---
|


posted by Brandon | 5:40 AM
---
|